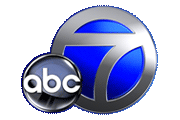 Ballot petition aims to save Coit Tower
February 6, 2012
SAN FRANCISCO (KGO) — In June San Francisco voters may have a chance to decide the fate of one of the city's most iconic landmarks. Some believe Coit Tower is falling into disrepair. So Monday they turned in signatures on a ballot petition they hope will force the city to do something about it.
Coit Tower is one of San Francisco's jewels built back in 1933, but some critics believe its losing its sparkle, especially the depression-era murals that cover the walls inside.
"Generally, Coit Tower is not getting the love it needs," said Jon Golinger.
Golinger is the head of a committee called Protect Coit Tower, which has gathered signatures to put an initiative on the June ballot. The measure would make it city policy to use much of the money made here from concessions and elevator rides for preservation. The last time there was a major restoration at Coit Tower was in 1990.
"Right now very little money, less than 10 percent of the dollars the city raises from Coit Tower actually comes back. We're not saying all the money needs to be spent here, but if it's needed, why doesn't it make sense that Coit Tower is the priority?" said Golinger.
Watch the full story here:  Ballot petition aims to save Coit Tower
Do you like this post?